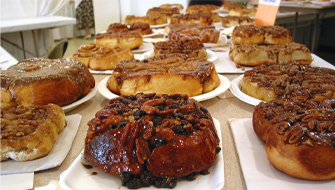 Recipe of the Month

---

Caramel Pecan Rolls

Makes 24 rolls

Rolls:
1 cup butter
½ cup sugar
2 teaspoons salt
2 eggs
2 tablespoons (3 packages, ¼ ounce each) instant yeast
4 cups flour
2-1/4 cups hot water (120ºF. to 130ºF.)
3-1/2 to 4 cups flour
9 tablespoons butter
1 cup sugar
2 tablespoons cinnamon
2 cups pecans, chopped

Caramel Syrup:
1 pound butter
2 cups brown sugar
½ cup corn syrup
1-1/4 teaspoons vanilla
3 cups pecans

For Rolls:
Cream butter, sugar and salt. Add eggs.

In a separate bowl, combine yeast and 4 cups flour; mix thoroughly. Add flour mixture to butter/sugar mixture, then add the hot water. Mix well and add an additional 3-1/2 to 4 cups of flour, 1 cup at a time, until soft smooth dough forms. Turn out on lightly floured surface and knead until smooth. Place dough in a greased bowl, cover and let rise until double in bulk, about 45 to 50 minutes.

Divide dough into 3 equal portions. For each portion: roll out to an 8x14-inch rectangle. Brush with 3 tablespoons melted butter. Combine 1 cup sugar with cinnamon to make cinnamon sugar. Sprinkle 1/3 cup cinnamon sugar and 2/3 cup pecans on each rectangle. Roll up from short side. Cut each roll into 8 slices.

For Caramel Syrup:
Melt butter in a saucepan. Add brown sugar, corn syrup and vanilla. Stir until blended.

Place 1 cup caramel syrup and 1 cup pecans in each of three 9x13-inch pans. (Or 1/2 cup syrup and 1/2 cup pecans in 8-inch square baking pans). Place 8 rolls per 9x13-inch pan, or 4 rolls per 8-inch pan, cut side down. Cover and let rise until double, about 45 to 50 minutes.

Bake at 325ºF. for 15 to 20 minutes for 8-inch pans and 20 to 25 minutes for 9x13-inch pans. Cool slightly before turning out of pan.




Happy Baking!!